Robert (Bob) Goodchild – Marine Survey in Portugal and beyond
Providing a variety of surveys
Including those for pre purchase of vessels; insurance purposes; valuations and damage reports, as well as MCA Coding Inspections and British Tonnage Measurement.
Pre Survey Inspection
(not sure if you want to travel? this is a general description with many pictures)
Pre Purchase Survey
(Thorough inspection with sea trial before purchase)
Insurance and valuation
(Usually to renew insurance cover)
Valuation
(For finance or legal purposes)
Phase out survey
(Taking your vessel out of a charter fleet, condition and repairs check)
MCA Coding
(Code of Practice Examination for Small Commercial Vessels Up to 24m)
MLC
(Maritime Labour Convention)
Tonnage measurement
(Measurement Surveys for Part One Certificate of Registration)
Bob Goodchild is a marine surveyor based in Portugal, providing a wide variety of surveys for vessels throughout the region.
With training in the UK as a boat builder, Bob has technical expertise in fiberglass, wood and composite construction. Bob has worked in yacht survey, repair, management, charter and delivery, and has worked full time as a marine surveyor since 2003
Bob has represented underwriters and owners from Europe and the US for a wide range of insurance claims. These have included sinking, grounding, fire, lightning strike, dismasting, theft, third party damage, warranty claims and hurricane damage.
Bob is a lifetime sailor having cruised Europe and the Caribbean with ocean passages in the North and South Atlantic and the Pacific. Recently rounding Cape Horn and sailing to South Georgia via the Falklands.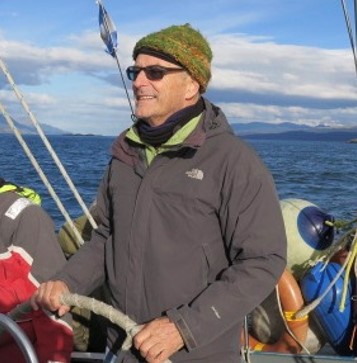 Accredited Associations Include:
The Society of Accredited Marine Surveyors – SAMS
International Institute of Marine Surveyors – IIMS
Yacht Designer and Surveyors Association – YDSA
American Boat and Yacht Council member – ABYC
Qualifications held include:
Diploma of Yacht and Small Boat Survey from Chapman's College
C & G from Falmouth Boat Building College
Degree in Technical Education from Bristol Polytechnic
RYA Yachtmaster Ocean
ABYC Marine Composites Certification